Ta strona używa plików cookies. Korzystając ze strony wyrażasz zgodę na używanie plików cookies, zgodnie z aktualnymi ustawieniami przeglądarki.
Więcej informacji o plikach cookies znajduje się w
polityce prywatności
.
Uwaga !!! Stronę można również powiększać za pomocą klawisza CTRL + kółko myszki

Tuesday, 28 February 2017

Weather in Gdynia


Gdynia-on-line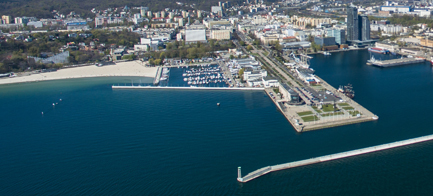 Gdynia - 25 years of being a freedom city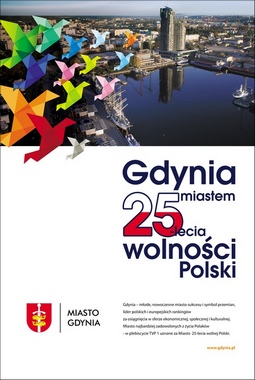 Which Polish city has undergone the most striking metamorphosis since the first free Sejm [lower chamber of the Polish Parliament] elections in postwar Poland, held on 4 June, 1989, and today is the most liveable place? According to internet users voting in the poll conducted by the Świat się kręci Polish Television (The Public Broadcasting Corporation) programme and Onet.pl web portal - it is GDYNIA! The triumph of Gdynia has been announced on 2 June, 2014.

It has been a spectacular success for the city and its residents. The competition was fierce. Apart from Gdynia, two other cities - Wroclaw and Rzeszow - received the largest number of votes in the first stage of the poll. We achieved this success due to the enormous mobilization of current and former residents of Gdynia and all those who know Gdynia from holiday visits, business trips or from watching television, reading the press, and using the Internet. It was their joint decision to elevate Gdynia to the 25 Years of Freedom City status, as they feel that Gdynia has taken the greatest advantage of those twenty-five years to develop itself and to build up high standards of living for its citizens.

"Days like today bring great joy because we look at Gdynia from a national perspective. It is a special and remarkable city, whose residents have fallen in love with it and have integrated within it. It is very satisfying when our residents concentrate on issues that unite rather than divide" - said Wojciech Szczurek, the Mayor of Gdynia, in a television studio during the announcement of the poll results.

"Throughout such jubilees we are able to demonstrate how much has changed in our country, how the realities of life have been transformed in our environment, and how much our thinking about a sense of community in Polish cities has been altered - how greatly proud of them we can be. All of these cities have changed in terms of hard, technical infrastructure, such as roads, bridges, stadiums etc., but the way people feel and perceive the places in which they live has also been transformed. This is a demonstrative fact of the phenomenal success of those twenty-five years", Dr Szczurek added.

more

więcej


© City Hall of Gdynia, 81-382 Gdynia, Aleja Marszałka Piłsudskiego 52/54
phone (+ 48 58) 66 88 000, fax (+48 58) 62 09 798, e-mail: umgdynia@gdynia.pl
Created by

| Layout by

| Zdjęcia lotnicze by

| Hosting by